Red Knights Virginia Chapter 8 originally began with the founding of Prince George Red Knights VA Chapter 8. This chapter got started in February 2004 by William "Lucky" Updike (a member of Red Knights VA Chapter 1) and Larry T. McClung, both with Jefferson Park Volunteer Fire Department. Other original charter members included Sherri Vanarkel, Rick Lemocks, Mike Gegenheimer, Steve Vanarkel, Bill Bowser, and Glen Stricklen.

Although some members were gung ho, the meetings and activities slowly stopped. The chapter was placed on the inactive list by the International at the end of 2005. In the fall of 2006, Rick Lemocks called the International to find out what had to be done to reactivate the chapter. Rick called Larry McClung and told him the International would reinstate Chapter 8 if an original Charter member requested the reinstatement. A meeting was held in November 2006 to establish if there was enough interest to start the chapter again and 10 potential members met and unanimously decided to reactivate the chapter. Larry McClung vouched for the original Charter Members, and contact was made with the International to again establish Virginia Chapter 8 of the Red Knights. The name was changed from the original Prince George chapter to Petersburg. An aggressive membership drive was formed and the chapter started growing immediately. Elections were held in December 2006 for new officers.

In February 2007, a club website was established. Dinner rides, Sunday fun rides and other activities were scheduled and the club has been very active in pursuing fund raising projects. Congratulations to all that have worked so hard to get this chapter to where it is at this time and Thank You to all the original members that started the chapter in 2004.


---
In Loving Memory...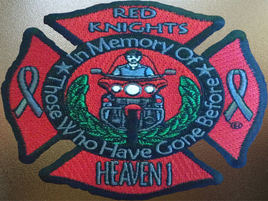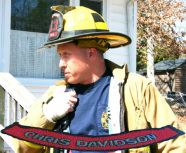 On Thursday, August 18, 2011, we lost a son, brother, father, firefighter, EMT, and most importantly a best friend to all. Chris "Hollywood" Davidson was tragically taken from us in a motorcycle accident on Interstate 95. Chris worked for Southside Emergency Crew, volunteered for Chesterfield Fire and EMS at Station 13, and was an active member of the Red Knights. He was known for his smile and hugs, always lending a helping hand, and most all of wild sense of humor! He will truly be remembered by all! Rest in peace Chris, we love you and miss you.
---
---